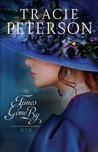 Blurb:
After getting left at the altar, Kenzie Gifford flees to San Francisco to start her life over, determined never to love again. She's made new friends and has a good job in the office of her cousin's chocolate factory. The only thorn in her side is Dr. Micah Fisher, who insists on pursuing her despite her constant rejection.
Then the Great 1906 Earthquake strikes the city, and everything changes. The devastation all around her makes Kenzie reevaluate her outlook on life--and possibly even her feelings for Micah. But then her world is rocked again when her ex-fiancE appears, full of apologies and determined to win her back. But Arthur already broke her heart once. Does she dare trust him again? The sudden arrival of a hidden danger will expose the motivations of all involved, but it could cost Kenzie her life--as well as her heart.
My Review:
In Times Gone By is the third installment from Tracie Peterson's Golden Gate Secrets series. I believe this one is my favorite from the series. I instantly felt connected to Kenzie. Especially, when her strength showed through when tragedy strikes and how she started to change. I enjoyed the historical details, making me want to learn more about the events.
I give In Times Gone By a well-deserved 5+ stars. I highly recommend it. It is such a wonderful and inspiring story.
I received this book from the publisher, but was not required to write a review. This review is 100% my own honest opinion.
View all my reviews